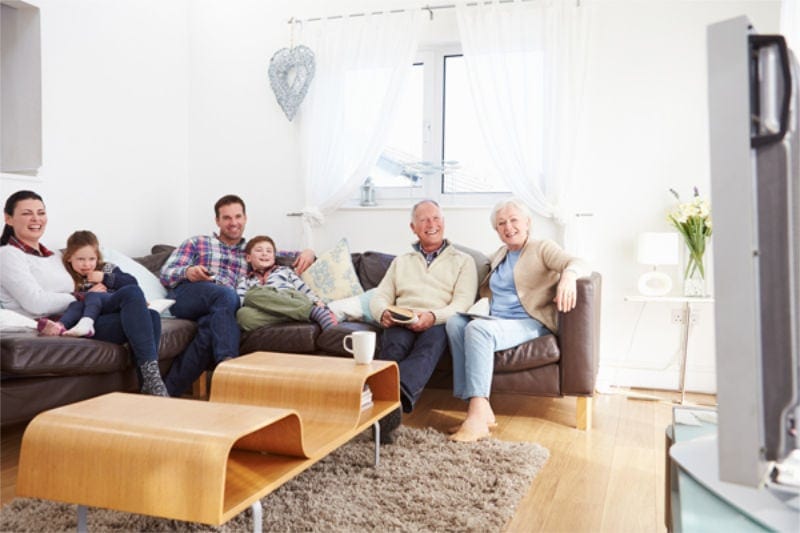 It's almost time for your family and friends to gather at your Portland home in celebration of Thanksgiving and the holidays. What better way is there to prepare your Oregon home for your guests than by enhancing your indoor air quality (IAQ)? After all, this helps ensure everyone will have the maximum level of home comfort.
The best way you can protect your home from pollutants and enjoy your living space is by turning to our Sun Glow Heating & Cooling experts! We can provide the products and maintenance you need to optimize your indoor air quality this season—helping you treat your guests to not only a festive but also comfortable event!
1. Get Creative With Decorations and Scents
Instead of decorating your home for the holidays using items manufactured with chemicals, try dressing your Portland home up with something more natural, such as leaves, pumpkins, pine cones, evergreen branches, oranges, and cinnamon sticks.
Also, try to refrain from using air fresheners, which only mask odors. Instead, try to create pleasant smells by lighting a nontoxic candle or baking a holiday treat. This can help reduce the number of irritants floating around in the air.
2. Clean Your Home Thoroughly to Remove Dust and Dirt
Expecting guests for a holiday celebration in your home could motivate you to clean! Be sure you focus on cleaning all areas—not just what's most visible.
This includes tables, light fixtures, and countertops as well as less obvious spots like behind appliances, on top of shelves, and underneath rugs. Be sure to dust, sweep, vacuum, and mop to get rid of as much dirt and grime as possible. A buildup of these particles could easily result in poor indoor air quality.
If you have guests planning to spend the holidays with you in Oregon and they suffer from health issues, such as a respiratory or heart condition, it's even more critical to properly clean and remove dust from your home. This not only helps make them more comfortable, it also protects their health.
Individuals with heart disease could experience adverse health consequences, including a heart attack, if they breathe in pollutants from the air, as stated by the Centers for Disease Control and Prevention (CDC). So take care of your guests by taking the extra steps necessary to clean your home.
3. Replace or Clean Your Air Filters
Prior to the arrival of your guests, improve your indoor air quality by replacing your air filter, or cleaning it if you have a reusable version. While you may be doing this routinely every month or so, replacing or cleaning it before your guests come over ensures everyone is breathing in fresh air instead of dust, dirt, and debris left lingering from your air filter.
4. Add an Air Purifier to Your Home
For optimal indoor air quality and comfort in your Portland home this season, add an air purifier. This is a phenomenal way to promote cleanliness, destroy bacteria on the surface, and eliminate odors. Air purification could be exactly what you need to set the tone for an enjoyable holiday event.
Fresh-Aire UV®, a leading manufacturer for HVAC ultraviolet (UV) disinfection systems, had phase-1 third-party testing "designed to model exposure time comparative to inactivating the SARS-CoV-2 virus in the moving airstream within the HVAC or ventilation system," as stated on the company's website. 
This study tested Fresh-Aire UV ADS™ and Blue-Tube XL™, both for commercial and healthcare applications, in addition to APCO-X™ for both residential and commercial applications. Results were described as "successful" by Aaron Engel, Vice President of Business Development of Fresh-Aire, and phase-2 testing is underway.
Another third-party testing was performed with products from RGF® Environmental Group, Inc., an environmental design and manufacturing company. The website states, "REME HALO® efficacy of 99.9 percent against the SARS-CoV-2 virus."
When you want to help control the spread of germs, air purification products are an excellent option. Talk with one of our heating, ventilation, and air conditioning (HVAC) experts to discuss what would work best in your home and lifestyle—or if one of our newer indoor air quality products could help as well.
If you are behind in your HVAC maintenance, it's not too late to schedule it! Get in touch with our experienced team to help.
Let Our Sun Glow Professionals Help Make Your Holiday Special
Improve your indoor air quality with the help of Sun Glow Heating & Cooling so you can have the most wonderful time with your loved ones in your Portland, OR, home this year. Contact our professionals so we can recommend the best course of action to take. Call 503-253-7789 or request service online.