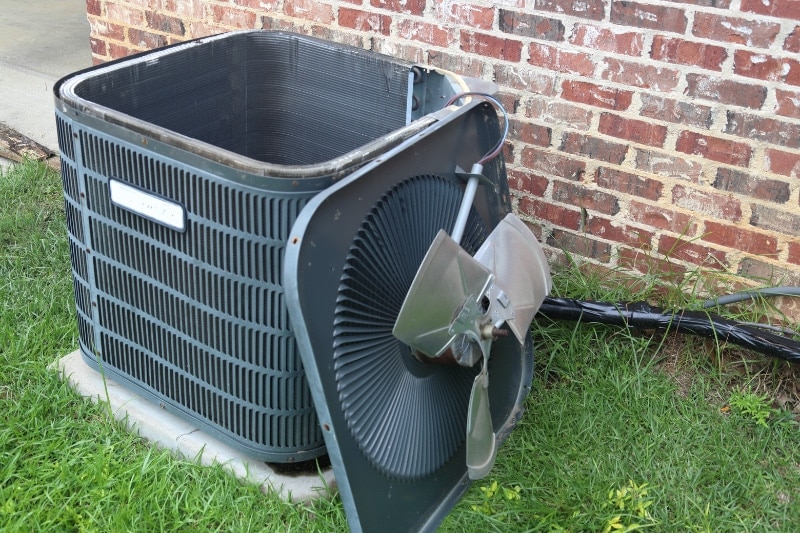 It's the first really hot day of summer when open windows, sun-blocking shades, and the ceiling fans just can't cut it anymore. You resign yourself to finally turning on your air conditioner (AC)—only to find it blowing warm air, making funny noises, or simply not cooperating at all. It's a scenario we all dread, and one that our professionals at SunGlow Home Services want to prevent.
If you are a homeowner in Portland getting ready for a scorching summer, you will want to understand the top causes of air conditioner failures and what to do to prevent or address them.
Bad Circuit Breaker or Fuse
One common cause of air conditioner failure is a faulty circuit breaker or fuse. Although some customers may be comfortable changing a fuse or blown breaker on their own, it can be somewhat dangerous because you are working with your electrical system. Be sure you have clear, complete, and reliable instructions on what to do, be sure your system is completely cooled down, and ensure your electricity is turned off.
You can also contact one of our professional heating, ventilating, and air conditioning (HVAC) specialists to handle the problem for you. A trained technician may be able to inspect related problems, such as a tripped high-pressure limit switch, and repair those items during the same service call.
Leaking Refrigerant
Most air conditioners require toxic refrigerants to operate properly. And while this refrigerant is contained and perfectly safe in a well-running air conditioning system, a refrigerant leak can be a significant problem.
Not only will a leak affect your air conditioning system's performance, but it is also bad for our Oregon environment. Our highly trained and knowledgeable technicians can help find and repair the refrigerant leak as well as recharge your air conditioning system so it's working properly once again.

Frozen Evaporator Coil
It's always a bit disconcerting if you notice frost and ice building up on your air conditioner evaporator coils. Even if you are not an HVAC professional, you probably realize that's a problem.
One way to fight against freeze-ups is to ensure your air filter and ductwork are clean. Good air circulation is key to keeping frost off your coils and keeping your air conditioner functioning well. Another possibility is your system is low on refrigerant, causing your system to much work harder to keep your home cool. If changing your air filter does not thaw your system, call one of our professionals to diagnose the cause.
Worn-Out Parts
Time and wear-and-tear will slowly affect the performance of your air conditioner. If your system is several years old, it may be more critical to arrange for a professional inspection on integral components of your air conditioner. Parts like your compressor and fan blades as well as electrical connections can malfunction due to regular use. If a trained technician can replace worn-out parts before they actually fail, you may be saved an emergency repair call.
Damage Resulting From Poor Maintenance
If you have been neglecting regular maintenance on your air conditioner by skipping its annual inspection and cleaning, you may void your air conditioner unit's manufacturer warranty and be shortening its lifespan. According to the US Department of Energy (DoE), the most important maintenance item is changing your air filter regularly. 
Damage can result from failing to do so or from something as simple as allowing plant growth to block your outdoor condenser unit. Take the time to care for your air conditioner on a regular basis, and have a professional come out to check and clean your air conditioner once a year.

Bad Thermostat
In some cases, your air conditioner may not be at fault for poor performance. If your thermostat is not operating properly, it is not providing the information your air conditioning system requires to turn on or off correctly. This may mean your air conditioner fails to work or cycles too frequently, which can be damaging to your unit in the long run.
If you are in the market to replace your thermostat, take some time to explore the different options. Many affordable options can help you reduce your energy bill by adjusting automatically, and some can be controlled remotely through your smartphone.
Call Us for Your Air Conditioning Needs
If you require more than a very basic air conditioner repair or prefer not to address any air conditioning problem on your own, you can always turn to our professionals at SunGlow Home Services here in Portland, Oregon. 
Our trained and experienced experts are familiar with various makes and models of air conditioners and can help you service and maintain them to keep your home cool all summer. We are also here if you are thinking of replacing your current system and are always available to discuss it with you. Call us at 503-253-7789 or request service online today.